Details

Parent Category: ROOT
Published Date
Our Sales Director Keith Proctor went over to Swift's Cottingham HQ in East Yorkshire yesterday to personally drop off reveal and protective caravan covers for their new brainchild. Keith was practically sworn to secrecy under the pain of death but we can safely say that we are thrilled to have been chosen to protect Swift's new brainchild the Smart High Tech construction.
For those of you who can't wait until the launch of the Smart HT, at the Caravan and Camping Show at the NEC from the 18th to the 23rd of February, you can whet your appetite with their new teaser trailer here
Details

Parent Category: ROOT
Published Date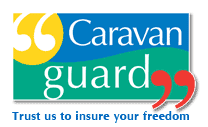 We're thrilled to announce that we've teamed up with Caravan Guard insurance to offer their customers a fantastic discount on our covers. Caravan Guard has a fantastic reputation for great service and quality cover so we're immensely proud to work with them. Buying a caravan cover protects your investment and this is of course important to you and your insurance company.
Get more details on the Caravan Guard website here
Details

Parent Category: News & Events
Published Date
We're thrilled to be taking part in the new Caravan Club Members Discount scheme giving Caravan Club member's exclusive deals in conjunction with the The Caravan Club. This has been launched this week and will give you the opportunity to get this UNBEATABLE DEAL on caravan covers. Quote the discount code to get a FREE EXCLUSIVE EASY FIT SYSTEM or a 10% DISCOUNT.
You'll get a fantastic unbeatable deal that we guarantee can't be matched. Great deals on Caravans Covers and Towing Covers from Protec Covers. To qualify just enter the promo code and enter this on the checkout page at out caravan accessory store or alternatively quote the code when ordering over the phone.
Details

Parent Category: ROOT
Published Date
Tomorrow is Yorkshire Day and we're giving away free county flags on all Towing Covers. The offer started on the 24th July and will be running until the 5th August. Some people have the strange idea that people from Yorkshire are reluctant to part with their money but to dispel this myth we are even giving away county flags to those of you that aren't lucky enough to be from Yorkshire.
So what do I have to do to get my free county flag on my Protec Towing Cover?
It couldn't be easier, simply quote: Yorkshire is Great (could be easier for some) to qualify for this fantastic offer.
Happy Yorkshire Day and Happy Towing!
Details

Parent Category: News & Events
Published Date
Protec Covers are the orginal innovators of towing covers for caravans and our design has evolved through rigorous testing and customer feedback over the years. One of our early towing skirt protecters had a foam protection and we have been asked if we can offer this option with our present towing covers. The simple answer is no we don't.
The reason that we stopped using foam protection is that firstly we saw that it wasn't necessary as the ProTex003 material is already sturdy enough but the other issues that those early designs had were problems with water absorbtion. Even though we are basking in sunshine at the moment we all unfortunately know that we are famous for copious amounts of rain. The problem our customers experienced was not only did rain find it's way into the foam, making it hard to dry out but added weight to the cover often causing the cover to slide whilst in transit. As soon as we realised this issue we stopped manufacturing the skirts with foam inners.
Therefore we stuck to the orginal material to avoid any possible problems this could create and we're happy to say that we took the right decision as our award winning tow covers protect your caravan and are light, sturdy and waterproof.